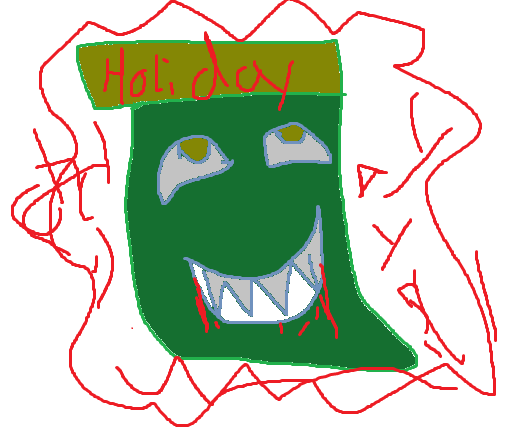 Whoa what a wicked cool stocking you might say.

I agree, so cool and wicked it is a gift in itself.
However if I should be blessed with receiving anything this Christmas here are a few things that are on my wishlist:
*A playlist for Doki: I'm not even sure what genre of music would fit him best, but if you have any suggestions or a set you think fits him I would love to hear it. I suppose the only genre I dislike would be hardcore rap, yeah-don't think that is all to fitting.
*An icon for Doki: I think him making a silly face would be awesome. Any silly face, crossing his eyes sticking out his tongue, chopsticks up his nose, daggers coming out of
his eyes
....Whatever you can think of
* A signature for Doki. I have no ideas for this, literally anything even a poorly rendered jpeg of a vegetable I would use.
*Any sort of art with Doki wearing one of your characters clothing. BONUS if Your character wearing Dokis clothes is included <3
* A short story of what you think would happen if Doki went up to one of your characters and without saying a word and with tears running down his face slapped them hard across the face. Feel free to add context for this event even happening.
*Any sort of Doki art at all I would love. He could use more refs in his profile.
Overall I only have one character and any sort or art or writing with him in it would be amazing <3
Happy Holidays



Posts

: 126


Join date

: 2015-11-27


Location

: A Jar



Happy Holidays!! :
( -Art Credit goes to Anita AKA CrystalMew (Mew for Short) )
A very merry Christmas to you my friend!
Hopefully we'll get to have more of these for many more years to come! And here is to hoping those many years are full of happy times and great success! <3



Posts

: 16


Join date

: 2015-05-23


Age

: 27


Location

: California




[art credit to Chiono!]


Happy holidays from the staff!! C:
Admin




Posts

: 462


Join date

: 2015-03-09



HAPPY HOLIDAYS!
You have found 15 points in your stocking!
From: Your Admin team :3



Posts

: 762


Join date

: 2015-04-28


Location

: On the Path of Daggers



I LOVE IT AHHHHHHHHHHHHHHHHHHHHHHHHHHHHHHHHHHHHHHHHHHHHHHHHHHHHHHHHHHHHHHHHHHHHHHHHHHHHHHHHHHHHHHHHHHHHHH!!!

Thank YOU ;U;



Posts

: 126


Join date

: 2015-11-27


Location

: A Jar





Similar topics
---
Permissions in this forum:
You
cannot
reply to topics in this forum